Golf Shop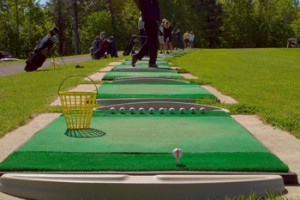 The Golf Shop at The Links at Mulberry Hill carries a variety of golf balls, golf apparel and other equipment in stock. Special orders can be placed by staff for most items. Other services available through the Golf Shop include golf club repair, club re-gripping and spike replacement.
A limited number of private lockers are available, for an annual rental fee, to store your clubs.
The Links at Mulberry Hill collaborates with the Edenton/Chowan Parks and Recreation Department and local golf professionals to offer adults clinics throughout the Spring and Summer months. These clinics address basic instruction as well as golf etiquette.
Golfers are expected to wear appropriate golf attire and follow accepted golf etiquette at all times while on the course.
Practice Facilities
The driving range and practice green are available for a brief "warm up" before a round of golf or to practice your form and technique. The  The Links at Mulberry Hill driving range, located behind the tennis courts, has been recently renovated to create target greens at different marked yardages.
Because of the close proximity to homes, the golfers are asked to use irons only and or clubs traveling no longer than 220 yards on the driving range. There is also a sand bunker available to perfect those sand shots! Bags of balls for the driving range are available to purchase in the Pro Shop ($4/bag for members, $6/bag for non-members). The Links at Mulberry Hill offers driving range pass to members and non-members. Inquire at the golf shop.
Salt Water Filtration Swimming Pool

Members are welcome to bring an in-town guest to the pool for $5 a day. Each in-town guest is limited to two pool visits each month. (We hope that in-town guests would consider joining the club if they are interested in greater access to the pool!) There is no limit and no charge to out-of-town guests accompanying a member to the pool. Members are expected to sign in with their guests at the Golf Shop before entering the pool area each day.
During the summer months, the Snack Bar is open for purchasing snacks, beverages, and sandwiches, usually from 11:00am to 2:00pm on weekdays and 11:00am-3:00pm on weekends and holidays. A Club member can charge purchases to his/her account when authorization to charge a credit card or bank draft has been established. Glass is not allowed in the pool area. Members are encouraged to help The Links at Mulberry Hill staff keep the pool area tidy and to report broken or non-functioning items in the pool area to the Golf Shop.
Individual and group swimming lessons are offered periodically throughout the summer both privately and through the Edenton/Chowan Parks & Recreation Department. The schedule is usually published on the The Links at Mulberry Hill website or the staff in the Golf Shop can be contacted for more information.
The pool is available for private parties between 6:00 and 9:00pm. The fee for non-members is $350. The fee for members will be based on the type of event being planned. The Club Manager can respond to specific questions about pool parties.
The Links at Mulberry Hill has put several processes in place to assure the safety of all swimmers:
Children under 13 require adult supervision, either by parents or babysitters designated in advance and in writing.
Children over 13 are allowed to swim unaccompanied by adults only with written parental permission submitted to the Golf Shop staff.
Adult swimmers are encouraged to use the pool in the presence of at least one other person.
Injuries or emergencies should be reported immediately to the Golf Shop staff.
Notice to our prospective Pool Members!
Over the last several months, preparations have been underway to open the pool by Memorial Day Weekend, as has occurred in numerous past years.
Due to COVID-19, the current North Carolina Governor's Executive Order (Phase 1), which expires on Friday, May 22nd, at 5 PM, requires that Outdoor Pools remain closed.
As soon as this restriction is lifted, we'd love for you to join as pool members.  The cost of membership will be adjusted, based upon the opening date. Enjoyable times do await you and your family at our pool overlooking the scenic Albemarle Sound.
Feel free to email Linda at proshop@linksatmulberryhill.com to let her know of your request to be contacted of the pool opening date.